Obsessed With I'm A Celeb? Take A Look At Our Jungle Themed Blinds
The new season of "I'm A Celebrity (Get Me Out Of Here)" is in full swing. That means it's time to watch another group of unlucky celebrities go through some cringe-worthy, gut-wrenching trials. But when your eyes aren't glued to the screen during the bushtucker trials for Matt and the gang, you might have noticed the incredible beauty of the Australian jungle that surrounds them. One of the reasons ITV chose this location is due to the picturesque backdrop it provides. You could be interested in adding some of this beauty to your home. If so, then we have the answer. In our store, you'll find a wide selection of blinds with jungle-inspired prints that will bring colour, life and beauty to your home.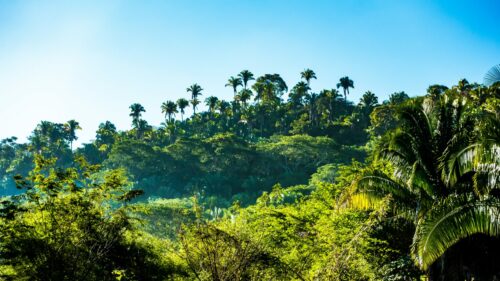 Paradiso Everglade
First, you might want to consider adding one of our Paradiso Everglade Roller Blinds to your home. This could look perfect in the kitchen or the bathroom and is the perfect way to brighten up a dull space with a gorgeous floral print. The images across the blind resemble the type of plants that you are likely to see around you in a tropical jungle while the green background ensures that they stand out beautifully. Light from outside shins through the plant prints to ensure that they have a stunning natural glow.
Leopard Bruschetta
You could also consider one of our Leopard Bruschetta Roller Blinds. As well as providing stunning floral prints there are images of leopards dotted around which look magnificent. This bold choice will provide a unique decor piece for your home and is perfect for animal lovers. The wonderful array of colours will brighten up any area while the blinds let in just enough light to warm the room. Oranges, browns, and green shades are used throughout the blind, ensuring that they will fit well with an earthy decor or style.
Clarice Fern
If you are aiming for a more minimal design in your home, then you may want to take a look at our Clarice Fern Roller Blinds. Another example of our light filtering roller blinds, this lets in light around the prints of the ferns, ensuring that they stand out perfectly. You can order a free sample to test how this will look in your home. It could be a great way to create a biophilic design in an area such as your kitchen.
Laguna Malachite
Our Roman blinds will add splendour and beauty to your home in stunning fashion. The Laguna Malachite combines green and blue shades with a stunning effect. The floral pattern has pastel colours that will help create a soothing atmosphere and could be perfect if you are looking for a way to add colour and life to your bathroom.
Leopard Bruschetta
Finally, you might want to consider our Leopard Bruschetta Roman Blinds. These will ensure that your home looks magnificent with dark, deep brown and green shades combined to create an earthy combination. This will fit well with a design that uses dark wood or stands out against a light backdrop.
We hope these blinds provide inspiration and allow you to add a little of the jungle aesthetic to your home.