5 Things You Need To Know About Our Blinds For Keylite Windows
Keylite windows are a type of window that is designed to let light into your home. They are ideal for letting in lots of natural light, particularly when installed in rooms like kitchens or bathrooms that don't get much sunlight. But many people don't know that these windows can be fitted with Keylite blinds to help control the amount of light and noise that is let in. This can be very useful, as it means you can still take advantage of the natural light that these windows provide while also creating a more comfortable environment inside your home.
Stylish And Functional
One of the key benefits of installing Keylite blinds in your keylite windows is that they are not only functional but also very stylish. They come in various styles and designs, so you can choose one that perfectly complements the rest of your home's decor. And because they feature modern materials and sleek designs, they add a touch of elegance to your room that is sure to impress guests.
Thermal Protection
Another great benefit of installing Keylite blinds is that they can help provide your home with thermal protection. This is because they are made from special materials that help keep out cold air and heat in the summer. This means that your home will stay more comfortable throughout the year, and if you choose our white thermal backing Keylite blinds, they can also help to reduce your energy bills by keeping out excess sunlight during the warmer months.
Blackout Guaranteed
If you want a way to completely block out the light in your room, then our blackout Keylite blinds are the perfect choice. They are made from blackout fabric that completely blocks out the sun's rays and any evening light while also providing excellent thermal protection. And, if you're worried about outside noise coming in when your blinds are closed, then don't worry; thanks to the special material used in their construction, these blinds guarantee a blackout effect that will keep you completely undisturbed from any outside noise too.
Suitable For (Almost) All Keylite Windows
Another great benefit of choosing Keylite blinds is that they are suitable for all kinds of Keylite windows. So no matter which kind of window you have, whether it's new generation timber or polar Keylite windows, you can be sure that these Keylite blinds will fit properly and look amazing. Our sizing guide will provide you with the correct code for each Keylite blind so you can be sure that it will fit your windows perfectly.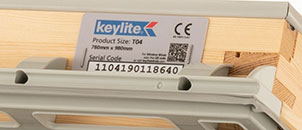 Easy To Install And Use
And finally, one of the biggest benefits of choosing Keylite blinds is that they are so easy to install and use. Thanks to their unique design, they slot easily into place without the need for any drastic construction. And, if you want to use them to control the light in your room, all you have to do is pull them up or down, thanks to the cordless design. Installation instructions are included with every Keylite blind order, so you can be sure that they will be ready to use in no time at all.
If you're looking for a stylish, functional, and affordable way to control the light in your home, then be sure to choose our Keylite blinds. Not only are they stylish and elegant, but they also provide excellent thermal protection and blackout benefits. So why not browse our selection today and find the perfect thermal blackout keylite blinds for your home? You won't be disappointed!